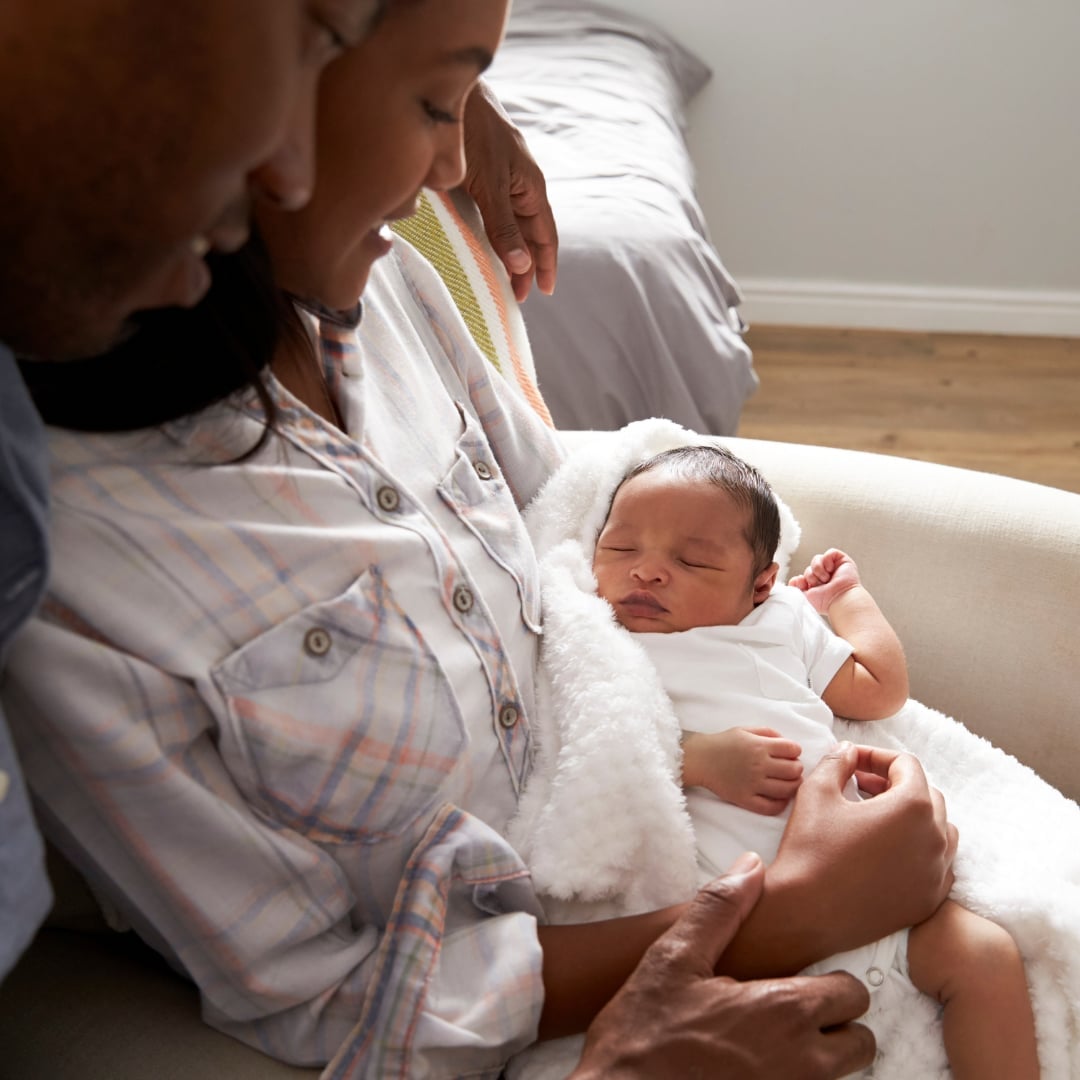 According to Fertility Network UK, 3.5 million people will go through some kind of fertility challenge. In spite of this, women are taking ownership of their reproductive health. HFEA, the UK's fertility regulator, reported a 23 percent increase in egg-freezing cycles between 2018 and 2019. Although the narrative around egg freezing has changed, Black women are still being left behind due to a lack of research into infertility issues that they are more likely to experience, a historical lack of trust in government healthcare, and socioeconomic barriers, but there are solutions.
There are internal and external issues that hinder Black women from freezing their eggs, such as thinking about fertility as an afterthought and the historical lack of support. Last year, a report ordered by the Human Rights Committee found that Black women feel unequally treated by the NHS. In order for Black women to explore their fertility options, safe spaces must be created. However, the stereotypes that exist in healthcare and medical spaces, and within the Black community, make this difficult. Black women's concerns are often minimised or ignored, and as a result, sharing their needs with medical professionals can produce a fair amount of discomfort.
Thankfully, there are organisations that are working towards much-needed change, including The Fertility Network, which offers tailored support to Black women who are experiencing fertility issues. "We have seen an increase in the number of Black women asking for advice and support. We've even set up a group on Facebook for Black women who are experiencing fertility problems," said Kate Brian, operations manager at The Fertility Network. The network also hosts online meetings, which have been attended by Dr Christine Ekechi (a consultant obstetrician, gynaecologist, and spokesperson for racial equality at the Royal College of Obstetricians & Gynaecologists).
There are a number of reasons Black women would want to freeze their eggs, such as a desire to improve and secure their reproductive futures, wanting to be financially ready before they decide to start a family, and avoiding any societal pressures associated with finding a partner and settling down. Blogger and podcaster Fawziah A. Qadir decided to freeze her eggs at the age of 35. "I was a single, professional woman pursuing my career, and my plans did not align with starting a family. I didn't want to sacrifice my desire for a family for my professional and academic goals," she said. Beauty and lifestyle editor Amerley Ollennu underwent fertility testing (aka a fertility MOT) before freezing her eggs at The Fertility and Gynaecology Academy. "The results of my fertility MOT really helped me gain clarity on whether I wanted to freeze my eggs. I was sure I wanted the option of having children in the future, but at a time that suited me. When I discovered I had a lower-than-average fertility rate for my age, it made freezing my eggs more of a necessity," she said. Having PCOS and endometriosis, which led to issues with her cycle, also played a part in Ollennu's decision.
A lot of information available online about egg freezing isn't aimed at Black women, and it can be difficult to find the right information before making a decision. Finding the right information and asking as many questions as possible can be arduous, but it is essential. "I asked my ob-gyn for names of fertility experts, and my research started from there. Nothing was really comprehensive, so I made an appointment with a doctor to learn more," Qadir said. Ollennu found that there was a lot of conflicting information online, so she took it upon herself to educate women by documenting her experience in a series of video diaries.
"I wanted to offer a no-holds-barred account of what really happens, both physically and mentally. I also wanted to explain the medical side of the process accurately because so many videos I'd seen online failed to do so and often spread false information that would most likely unduly scare a lot of women," Ollennu said. The average price of one complete egg-freezing cycle is said to be between £7,000-£8,000. Researchers from LSE analysed pay and found that Black women are least likely to be among the UK's top earners. "To be a WOC is to face a plethora of barriers. The socioeconomic status of Black women in the UK is evidence of that. As women, we don't just make less than men, we also make less than our white female counterparts, meaning many of us may find it impossible to even afford to freeze our eggs," Ollennu said.
HFEA's Ethnic Diversity Report found that Black women had higher rates of tubal factor infertility. Tubal factor infertility occurs when a blockage in the fallopian tubes will not allow the egg and sperm to meet. It accounts for 25-30 percent of infertility cases. "We are currently working with other organisations to try and understand why Black women are having poor fertility outcomes. We noticed that the chances of having a baby through IVF for Black women seemed to be lower than other groups," said Rachel Cutting, director of compliance and information at HFEA.
With the odds stacked against Black women, having a good fertility doctor is very important. "I was looking for a doctor who had excellent reviews and a good success rate, while location and personal recommendations were also factors that helped me decide on what clinic to choose," Ollennu said. Qadir's ob-gyn provided her with a list of fertility clinics. "I was looking for a facility that had woman doctors. I wanted to work with a woman as a matter of comfort and trust, so after reading reviews, I decided that RMA NJ was the right clinic for me. Fertility doctors also have a responsibility to be transparent with their patients," Qadir added. "From my online research, I discovered that I had so many questions about the process, but my doctor was really assuring. She sat down with me for an hour! She was so patient and even gave me literature to do my own research." Ollennu shared that her doctor was great at explaining the statistics and possible outcomes. "Understanding that egg freezing is not a guarantee of having children in the future, but rather a procedure that would essentially give me one last option of having my own biological child if all other options fail, helped me remain realistic and grounded about the process."
Learning about reproductive health later in life can be one of the reasons women may deprioritise their fertility. According to HFEA, Black patients start IVF at later ages compared to other groups at an average of 36.4, so "the younger you are when you freeze your eggs, the better," Cutting confirmed. In order to continue to improve the narrative around fertility and fertility problems, conversations need to start earlier so that women are able to make informed choices. "When I used to go to local schools to talk about IVF, I would tell the children that one in six of them would be needing fertility treatment in the future, and that would shock them," Cutting said. "There's a longstanding myth that Black women are incredibly fertile. It's a misconception that medical professionals have perpetuated for centuries and has been internalised by many Black women and communities, myself included," Ollennu said. The idea that the ability to conceive is guaranteed the moment a woman decides she wants to have a child is harmful, so it is extremely important for Black women to be aware of different fertility issues and experiences.
Although more women are opting to freeze their eggs, there is a lack of awareness around the process and what it actually entails. Egg freezing is a procedure that preserves women's eggs. "Before the process begins, the patient might have to have some blood tests to determine suitability. After this, a cycle of treatment begins where the patient is given drugs to make them produce more eggs (during the menstrual cycle, a woman produces just one egg) so that more can be frozen," Cutting explained. After approximately 10 days of daily injections, patients will have a vaginal scan to see how the follicles (the tiny fluid sacks that the eggs grow in) are growing. When they get to a certain size, the egg collection process begins. Recently, the government proposed plans to increase the storage limit on frozen eggs. "This will allow women to have more flexibility relating to the length of egg storage," Cutting said.
At the moment, eggs can only be stored for 10 years. Clinics will carry out the procedure under local or general anaesthetic. "The eggs are removed from the follicles in the fluid, and the fluid is given to an embryologist, who finds the eggs there, and if they are suitable, they can be frozen," Cutting explained. Something that many people may not be aware of is that egg freezing involves a surgical procedure, and side effects are likely. One of the worst side effects that can come from the process is ovarian hyperstimulation syndrome, which Ollennu experienced. Ovarian hyperstimulation happens when women "respond too well to the medication they are given, and this results in them producing lots of eggs. It can cause pain and bloating," Cutting said. Qadir shared that she relied on emotional support from a doula. "You are injecting yourself with hormones for more than a week before your eggs are retrieved, so your emotions are heightened and you are aware of your feelings. I couldn't have done it without the support from my doula." Cutting added that the process is a commitment, with early-morning appointments and days off work, both on the day of the egg retrieval and afterwards. A few additional days to recover may also be needed.
Qadir said the decision to freeze her eggs was one of the greatest gifts she could give herself. "I don't feel as much pressure as I did before the process. It's one of the best investments I ever made." Egg freezing is no longer seen as a way to delay the process of having a family; it gives women the opportunity to secure their future and focus on other things. "Overall, my experience was a positive one; although I had some side effects from the process, it made me focus on my fertility goals and forced me to start implementing a plan so that I could realise them. Had I been better informed about female fertility and Black female fertility specifically, I would have probably made a fertility plan sooner, and frozen my eggs earlier, so that they would have been younger and of better quality," Ollennu said.
There are many reasons Black women may be dissuaded from considering fertility treatment. Fortunately, fertility organisations are working to challenge (and hopefully end) the disparities that exist within healthcare and medical spaces. Black women's fertility experiences need to be amplified in order for the changes we've been waiting to see to become a reality.
For more information about the egg-freezing process, visit the HFEA website.