Aedín Ní Thiarnaigh, folklorist and presenter of Faoi Bhláth starting tonight at 7.30pm on RTÉ ONE on the best of Irish wild flowers and their romantic traits.
Tá Lá Fhéile Vailíntín linn, lá mór rómáns agus rósanna dearga! The red rose is an international symbol of romance. Tá siad dathúil cinnte, agus cumhra leis. But what about our own native flowers?
Cén fáth go ndéanann muid neamhaird orthu siúd nuair a smaoiníonn muid ar chúrsaí grá? There's a wealth of Irish folklore which connects our wildflowers to love and romance. If we gave them a chance, the bláthanna fiáine on our doorstep might just roses a run for their money.
SRAITH NUA

Faoi Bhláth | Ag tosú Dé Luain ag 7.30pm | @RTEOne

Sa chéad chlár, díríonn @aedinot ar na fálta sceach in Éirinn.@Abu_Media_Teo #Gaeilge #FaoiBhlath pic.twitter.com/0A2hdV7CxB

— Gaeilge ar RTÉ (@GaeilgeRTE) February 11, 2022
Take for example: An Magairlín Meidhreach (Early Purple Orchid) The ainm Gaeilge of this bláth gives a big hint regarding its past purpose straight off the bat. An Magairlín Meidhreach is a stunning flower native to the Burren and other limestone landscapes. However, when translated word for word, the benign and beautiful Early Purple Orchid becomes a 'Merry Testicle'!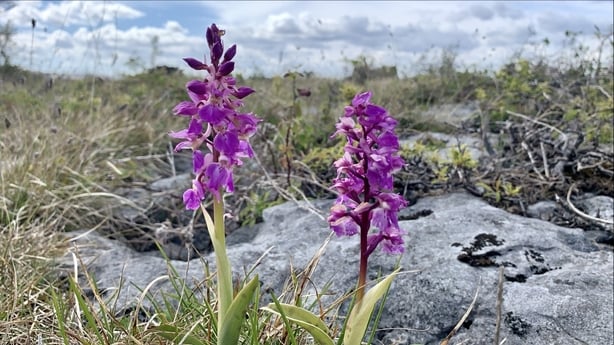 A common theme in Irish folklore is that powers were often attributed to plants based on their appearance. It just so happens that the roots of these bláth fiáin were thought to resemble a certain part of the male anatomy. This in turn led to the widespread belief that an Magairlín Meidhreach was a fertility booster and a potent aphrodisiac and people would use the roots to make deochanna grá.
Bláth na Sceiche Gile (Hawthorn Blossom) An Sceach Gheal is one of Ireland's most mysterious and most widespread trees, seen in hedgerows ar fud na tíre. It's the source of many superstitions about the síoga and is commonly regarded as a fairy tree. Feirmeoirí have always had a healthy fear of the hawthorn, and would never fell a sceach gheal. Tá a bpiseoga féin ag bláthanna na sceiche gile. Although treated with caution throughout the year, on Oíche Bhealtaine young unmarried women would place a few of the hawthorn blossoms under their clothes near their heart. This was thought to greatly improve their chances of finding a fear céile!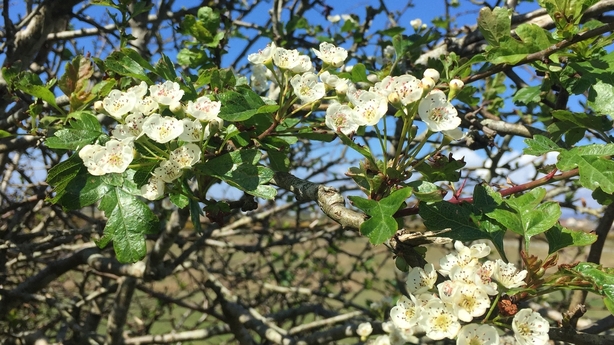 Mismín Mionsach (Water Mint)This terrific looking purple bláth was commonly used in herbal remedies. Not only would it soothe coughs, colds and indigestion, it was also taken as a tea to soothe period pain. Its enticing minty fragrance may have had something to do with na húsáidí eile a bhaineann leis, and its central role in a love spell! According to the seanchas of the flower, if a man held a sprig of mismín mionsach in his hand for a few minutes until the flower grew warm and moist and if he then took hold of his cailín's hand, she would be sure to fall in love with him agus stay with him go deo.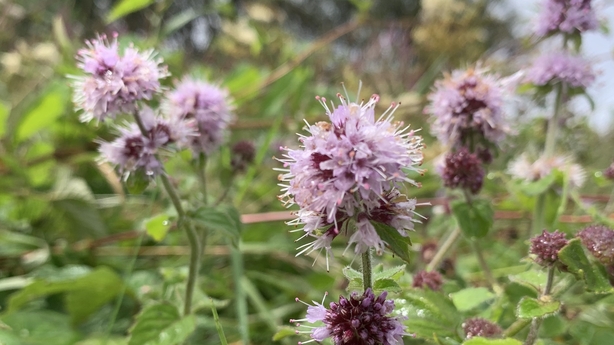 Lus Cré (Speedwell) This dainty blue bláth fiáin is easy to miss, hiding in patches of grass left untamed. An Lus Cré grows all over the country and its seanchas is sure to warm the heart. Fadó, when travelling was a more perilous affair, people turned to bláthanna fiáine for protection and to flowers like the humble Speedwell. Before someone set off on a journey, their beloved might sew a sprig of the flower into their chun iad a choinneáil slán le linn an turais and to ensure their safe return home. In some parts of Cúige Mumhan, an Lus Cré was also fondly known as 'Jump-Up-And-Kiss-Me' and someone wearing a sprig might expect a cheeky póg or two as a result.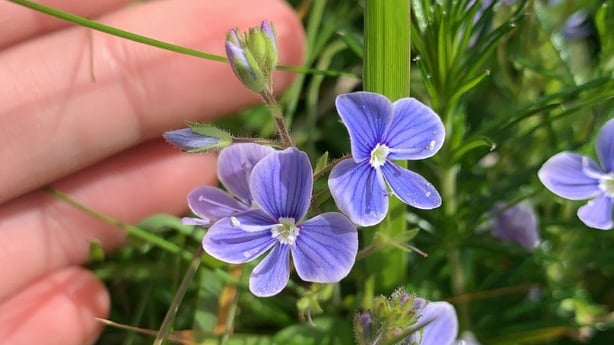 Beidh na bláthanna fiáine seo agus eile á gcéiliúradh i 'Faoi Bhláth', sraith nua ag teacht go RTÉ One á chur i láthair ag Aedín Ní Thiarnaigh.
Craolfar an chéad chlár anocht ag 19:30. These wildflowers and more will be celebrated in 'Faoi Bhláth', a new series coming to RTÉ One presented by Aedín Ní Thiarnaigh. The first episode will air tonight at 19:30.